9 avril 2012
1
09
/

04
/

avril
/

2012
10:42
To the end of the Transborder Conference which met in Istanbul to different networks for open borders, protest outside the detention center of Edirne, near the Greek border. The exiles are hardly visible in this city, since they come directly from Istanbul at night by bypassing it. So there is a low awareness of what happens to a few kilometers away on the border, but a group of local activists began to raise the issue and to raise public awareness.
Open for 6 months and funded by the European Union, the new detention center of Edirne has a capacity of 400 seats. It replaces older buildings with severely degraded conditions.
The appearance of the building is a paradox: light colored walls, glass entrance, wrought iron fence that would surround any house, wrought iron bars on windows, planting grass all around are being completed.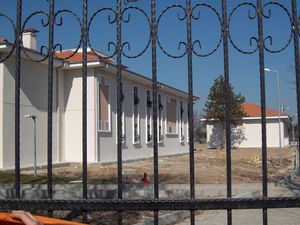 Some barbed wire on the side, CCTV cameras, have a rather discreet presence. The whole gives the impression of a new and comfortable building, whose purpose is not clearly identifiable.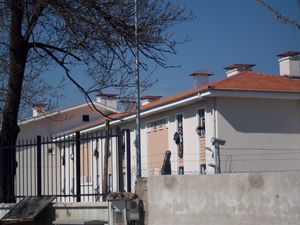 The security organisation is most likely inside the center, invisible from the outside.
At the window when we are there, a child of ten years, and some faces that you can not tell if they are over or under 18. Afghans, North Africans, Pakistanis ... No women, but they can be at the rear of the building, not visible from where we were.
By their cries, prisoners remind us the real function of this building and what is their first aspiration: "freedom".
Published by exilesingreece