22 mars 2011
2
22
/

03
/

mars
/

2011
12:41
New visit to Afghan Hunger Strike. They are convened in small groups before the Committee on asylum, which will decide whether or not they obtain refugee status. Some expect this appointment for 10 years.
The process of claim includes an initial interview at the police station when filing the application, and a second before the Committee related to the Ministry of Interior. There is a theoretical possibility to appeal a negative decision, but the duration and especially the cost of the approach makes it ineffective.
They are 91 in this movement, including a dozen families with a total of 23 children. Some of these children were born in Greece and are schooled in Greek. They worked when it was allowed with the red card, but this right was withdrawn from asylum seekers. Initially they had no intention of staying in Greece, but they either missed opportunities to leave either been referred here from another European country.
There have been two attempts to attack the camp of the hunger strikers by fascist groups, which have failed. Racist violence is common in Athens, and my an Afghan tells me he was once beaten in the street while walking with his son.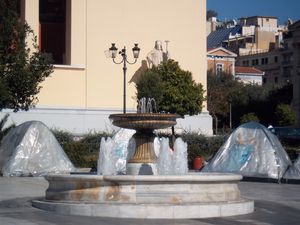 I go then to see the undocumented workers who have stopped their hunger strike. They leave today for Crete, the last being hospitalized are out now and and have sufficiently recovered to make the trip.
The atmosphere is mostly the smile and the fun, despite the uncertainties. If the obtained residence permits are not a great political victory, being able to go back and review their family is probably a lot to them. Yet everyone discussed whether the government will deliver, and especially what will happen if the government changes, which is not excluded in the current environment. But they say they are determined to start a new action if necessary.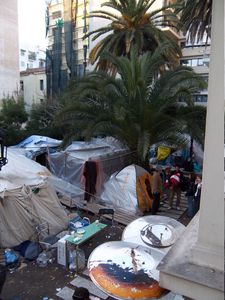 Published by exilesingreece