28 septembre 2011
3
28
/

09
/

septembre
/

2011
23:33
Screenings were organiseded before and during the No Border Camp in several nearby locations.

Stit is a village on the Turkish border where the exiles come to Bulgaria. Some of them will go directly to the police, presumably to seek asylum. The population crosses the almost daily incoming without access to them. For the first time an opportunity offered to it for debate.

A Pastrogor, a shelter has been built and should open in September. A good forty people come to the screening - discussion, people come with children. A documentary focuses on the Bulgarian migrants in the Netherlands. People are shared understanding and concern about the unknown that will reach the village. In fact the center will host almost as many people as the village has a population. They point out that they did not ask their opinion, and that is the first time we just discuss it with them.

In Ljubimec, the projection leu outdoors, near a fairground. So the vast majority of children, few adults, many of the No Border activists intimidating for the debate to end. In Ljubimec, there is a detention center.

Very few cons to the world by Svilengrad, where the debate is thereby shortened the coup.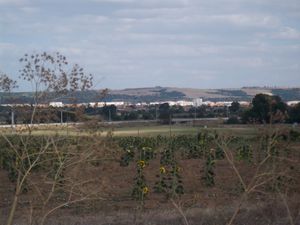 Svilengrad

The latest projection is held in Siva Reka, the village hosting the camp. Shifted to allow people to enter fields, it finally attracts fifteen to twenty villagers. The discussion is hard to leave after the documentary, but a Greek Bulgarian Parliament finally launching the debate became very lively.

The demonstration in Svilengrad can invest the pedestrian zone and creating contact with the population, since the language barrier allows, while at the detention center Ljubimec allows the meeting with local residents rrom just opposite.

Overall, a good contact, even if the meeting did not always seem obvious, and No Border seems to have left a positive image.

Published by exilesingreece