22 mars 2011
2
22
/

03
/

mars
/

2011
17:15
The bus to Athens leaves me at the foot of the bridge crossing the Gulf of Corinth, about ten kilometers from Patras. The weather is sunny, I decided to continue on foot. Good idea in terms of meetings.
On the grand road, I meet some Afghans, Tajiks or Hazaras. We chat, suddenly many questions about the situation in France and the possibilities of obtaining asylum. A larger group is at the intersection of a road down to the port.
I go down to the city center. The exiles are many near the railway, which is also near the port. Sheds on a square and in various urban interstices, an abandoned wagon used as shelter.
People also in front of the train station, where I discuss with Moroccans and an Afghan.
There are also Africans who sell trinkets in the streets. These are perhaps rather exiles who settled in Greece in poverty and who do not necessarily want to spend.
Tonight, the anarchist collective that greets me is organizing a demonstration in support of hunger strikers in Athens and Thessaloniki. The condition became critical of some strikers and a growing number of them is hospitalized. The government seems to prepare public opinion to the first death in distilling these are organizations that support them that would lead them and who are responsible for what may happen.
The group has contacts with exiles, supports them when embarking on a strike and maintain the political debate on migration issues in Patras. Other leftist groups rather involved in humanitarian aid.
The population is somewhat less hostile than in Igoumenitsa, or can show solidarity, what told us already some exiles met before.
The links between the exiles and the city also depend on nationality. If the Afghans come to pass, and live on the margins, focusing on the passage, the North Africans are more likely to integrate into the city, finding odd jobs or ways to earn some money.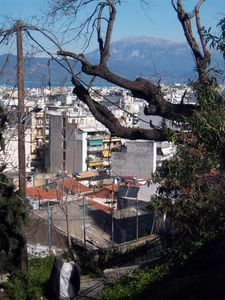 Published by exilesingreece