22 mars 2011
2
22
/

03
/

mars
/

2011
14:20
Patras is a city of 160,000 inhabitants, port and industrial city, heavily dominated by unemployment. The exiles were mainly clustered in a large camp on one of the squares of the city, until the destruction of it in July 2009. They are now scattered throughout the length of the city near the port and its access. Sheds, homes and abandoned warehouses, old cars, others sleep on the corner of a carton.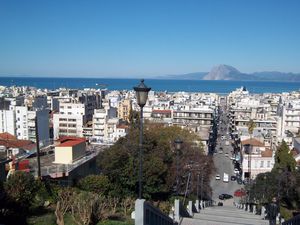 I'm going today south of the port, to complete my observations of yesterday. At a crossroads near a supermarket, a group of Africans, including a Sudanese man who was last week in Igoumenitsa. He invites me into his squat, a small abandoned house, they are fifteen to occupy. I met some Sudanese and a Mauritanian. We discuss many of the conditions for asylum in other countries, especially France.
Then discussed with the Pashtuns who inhabit the nearby warehouse. One of them was sent back to Afghanistan after spending three years in Britain, another did not follow his request for asylum in France, tried to go to England and eventually ask for return voluntary. New problems in Afghanistan have led him to return to Europe. I explain on what basis he may file a new application for asylum. I also tell them that the fingerprints of asylum seekers are kept for 10 years in Eurodac.
There seems to be a lot of people in this sector, in huts among the grand road and the shore or in abandoned buildings. A small lighthouse is home to a fairly mixed, Pakistanis, Afghans, Algerians.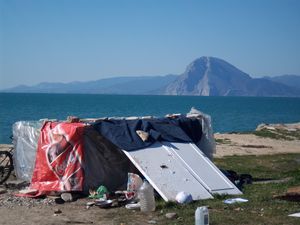 In Athens, the hunger strikers are likely to announce tonight the end of their movement. They have in effect obtained a regularization for themselves and a lowering of the duration of presence on Greek territory, 12 to 8 years, to be regularized.
Published by exilesingreece