9 avril 2012
1
09
/

04
/

avril
/

2012
11:26
Kumkapi is an old neighborhood with Greek and Armenian majority, these people have left to be replaced by internal migrants from the rest of Turkey, followed by a large Kurdish population. In the upper part of the district have settled many garment factories and textile shops. In 90 years, people from the former Soviet Union and Eastern European countries arrived there, or to buy products and resell them to their country or to work in Istanbul, particularly in the garment factories neighborhood. It is mostly women who are involved in this trade or who immigrated, and have provided significant financial support to their families back home. This phenomenon is distinct from the prostitution of women from the former Soviet Union, which has also grown significantly throughout Turkey in 90 years, and which is significantly lower now.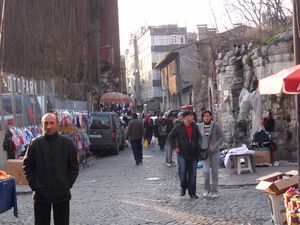 For ten years, exchanges have also grown with the Arab countries, as evidenced by signs of the top companies in the area, competing Arabic and Cyrillic. And exiles of different origins settled there too. Often they live and work has Kumkapi. The population is very well mixed and languages ​​mingle in the street.
Kumkapi follows a similar pattern to that of other districts: hotels that hosted the foreigners who engage in petty trade with their countries of origin tend to turn into tourist hotels, and renovated houses welcome a richer population.
It is also Kumkapi that is the center of detention and expulsion of Istanbul, with a capacity of 600 places in a building renovated in 2006, whose external appearance betrays little function.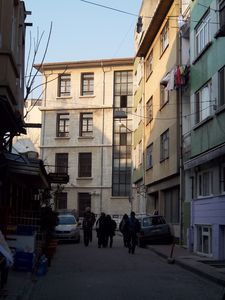 The airfare is charged to of the exiles. They can stay locked up until they could raise the money, sometimes for years.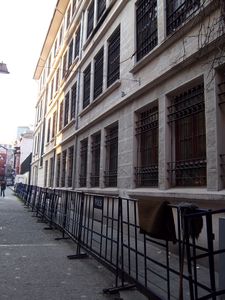 Published by exilesingreece