22 mars 2011
2
22
/

03
/

mars
/

2011
11:58
I directed my steps towards the bazaar and the area Kumkapi. This is an old Armenian quarter, which in the 90's became the place of the exiles from the Balkans and the former Soviet Union. Its upper part is a pile of various stores, while its lower part is a residential area quite poor. There are about ten years, the top was littered with many Cyrillic signs. We still find, but rare, as we always hear speaking Russian or Romanian in the streets. But what are the signs in Arabic that thrive today. The many pay phones, showing the countries to which they provide telephone calls, give an idea of ​​their customers, wide range of Arab countries, Central Asia, some African countries, and a choice of Asian and Eastern European countries.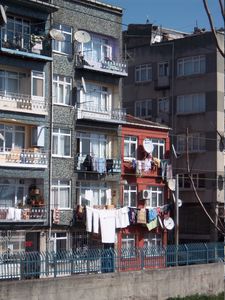 But new exiles are barely visible. A group of Afghans, including children, near the top of the bazaar, some Africans crossed in the street, a few words of Pashtoo heard at a street corner.
These exiles are hiding. Reflex of people illegally. But also fear of racist attacks, which are not uncommon, even if there is no organized racist groups here as in Greece. Especially afraid of the police, in a context where not only it can be violent, but where there is arbitrary and where the police simply rob the exiles.
A young exile pay their purchases in a grocery store with a banknote of 200 lire (about 100 euros). The merchant does not give him his money back. He protests. Bystanders beat him. He goes to the police station to complain. The police took him away in a remote area and beat him again.
Or the police arrest an exile, he took the money he has on him, and if he protests they put him in jail for various reasons - the judges generally follow the police.
The exiles, however, tend to be more visible - or less invisible - even outside their neighborhoods - a sign perhaps of an early installation. Some of them, who have not had the opportunity to continue their journey, have been there for many years. So it's a fairly close to that seen in Greece, except in Turkey even after 10 years the exiles always design their stay as temporary. The installation becomes a fact, but is not assumed.
Their presence does not debate in Turkish society, where there is more discussion on internal migration, including Kurds, a more sensitive topic.
Applications for asylum are processed by the UNHCR, in a rather slow, the prospect being the resettlement of those who are recognized as refugees in another country - Australia, Canada, United States. These countries set quotas and criteria that bring about the relocation can occur after a few months for some or years for others. In the meantime, the refugees are relegated in outlying towns where they have few opportunities for integration.
For them the prospect is also to leave.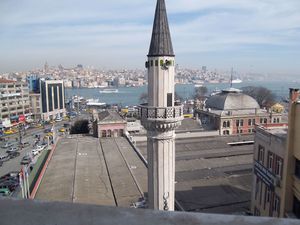 Published by exilesingreece