22 mars 2011
2
22
/

03
/

mars
/

2011
17:26
Our group split up, others go directly to the Greek-Turkish border, I am by Patra and Athens.
Day off in Igoumenitsa, today is the first day of Lent holiday in Greece, and our friends plan a party. But walking the city I come of course across on some exiles with whom I take the time to chat.
Igoumenitsa is indeed a small town about fifteen thousand inhabitants, but at the opening of the highway from Thessaloniki, and therefore linking the north of Greece to Italy.
Further works in the discussions with the exiles, we learn that side of racism, there are also Greeks who lend a hand, give a little money, clothes or food. We met over the streets one of those Greeks for whom exiles are welcome and we chatted a bit with him.
But on the other hand, the former Mayor of Igoumenitsa (PASOK, the Greek Socialist Party, currently in power) held a public meeting last week on how to solve the "problem" of the presence of the exiles, and calls on Wednesday a rally. Meanwhile, Medecins du Monde makes its appearance. Is this the prelude to the destruction of the jungles? There is talk of installing in Igoumenitsa an "identification" centre to sort out the person under the asylum and the other to expel.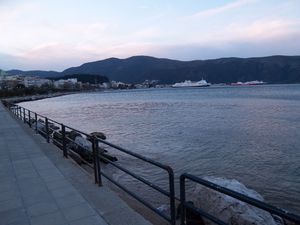 Published by exilesingreece