22 mars 2011
2
22
/

03
/

mars
/

2011
19:00
The French Interior Ministry sent a statement to the prefects to suspend deportations to Greece and to exercise the sovereignty clause under the Dublin II regulation, that is to say in France to treat applications for Asylum individuals with their fingerprints in Greece. We pass the info to the exiles, with due caution, that is to say, advising them to be accompanied by an association, if the prefecture does not respect the instructions of the minister. Knowing that when you got your fingerprints taken in Greece you are never sure if they have been returned to the European Eurodac file or not.
So, a lot of discussion on asylum and immigration policies during our visits to jungles "of Olives" and "Slope".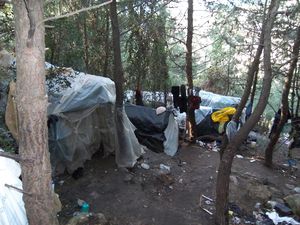 Around midnight stroll downtown and near the harbor to watch the police and the possible fascists.
Igoumenitsa is located at the bottom of a loop, and stretches along the shore. Throughout the south, the highway leading to the entrance of the harbor at the foot of the hill where the "Jungle of Slopes" is. The international port goes from there to the north. It is surrounded by a gate topped with barbed wire model razor blades, and punctuated by street lights which are fixed CCTV cameras. Police cars are parked and operate day and night on the avenue that runs along the harbor. Night, rotating lightss lit, showing that they have primarily a deterrent. Moreover, they may pass near exiles without anything happening to either side.
The arrests in the city on the evening of the first of March were made by plainclothes police in unmarked cars. Exiles hurt the difference between plainclothes police and activists of the extreme right. Yet the far-right activists hit them simply, while police beat them and arrest them, the militants of the extreme right hit with iron bars, police with batons. Both use the same insults.
After the international port, the port of internal connections, open to every wind. The neighboring islands have no strategic interests justifying barbed wire.
Published by exilesingreece