22 mars 2011
2
22
/

03
/

mars
/

2011
19:21
The Sudanese wounded yesterday in the harbor entrance was arrested and taken from the hospital to "prison", that is to say in the local prefabricates located in the port, which can be locked up indefinitely tens exiles.
The police violence is not the only practice in Igoumenitsa. Last year, one resident has shot a goup of exiles and severely injured one of them. As this is a rich landowner, he took the mobilization of local activists to get that charges be brought. But as it is also a notorious member of the extreme-right local activists, people who have engaged in this struggle have received numerous personal threats. Groups of extreme right attack also isolated exiles at night.
We go to another jungle located away from the city in a valley bottom, in an olive grove. Afghans, Kurds, Indians, Bangladeshis, Africans in the East, North Africans ... live there. We chat a moment with Moroccans. Many of them spent several years in France and were deported. It is difficult to make a "statistical" in the proportion of exiles returning to Europe, but we frequently encounter discussions over both North Africans expelled by France, Kurds in Iraq returned by Sweden, Sudanese returned to Greece under the Dublin II.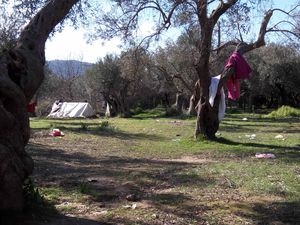 Visit to the "Jungle of Slopes" near the port, discussion about political asylum, immigration, the situation in Greece, violence, the suffering of each other. Practical issues as well, like this Eritrean whose wife is a refugee in Norway, and who wants to know how to join her.
Published by exilesingreece