22 mars 2011
2
22
/

03
/

mars
/

2011
19:37
Meeting with a group of fifteen people who support the exiles, our host presents us the situation and introduces us to the exiles. They help with their capabilities, shoes, clothing, food, legal aid to persons in detention or imprisonment, health (doctor and nurse are part of the group) ... and denounce the situation and especially the border closure. They have organized a demonstration by 500 people from all over Greece, which is important for a town of 15,000 inhabitants as Igoumenitsa.
Beside them, a priest also brings food. Anonymous citizens, of Igoumenistsa and surrounding villages, lay food or clothing - as we see it in Calais, a car stops, someone puts a bag and left immediately. This is a recent phenomenon, as if some Greeks became more solidarity with the crisis. Medecins du Monde is also trying to install an antenna to Igoumenitsa.
We're going in the afternoon in the jungles, located on the side of a hill, a few hundred meters from the harbour entrance.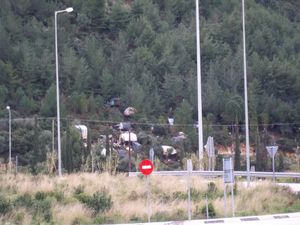 A rather strange situation before us: a few dozen exiles are massed near the harbor entrance. They areare waiting for trucks to slow down or stop to try to climbon them. The police are there too, a half-dozen to a dozen police officers, to prevent them from climbing or send them down.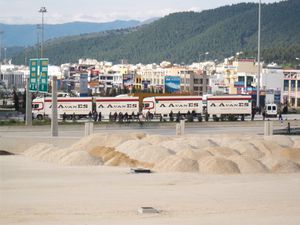 And at the harbor entrance the "commandos", police in green uniforms, are a second control. The exiles found in or under the trucks are systematically beaten up before being taken into police custody to view indefinitely. As we approached, shoutings lead us closer to the harbor entrance. A young Sudanese man who was struck by the "commando" is on the ground unconscious. It will be led by an ambulance.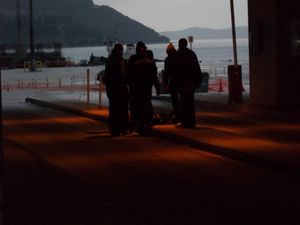 This jungle includes exiles from various countries, North Africans, Kurds, East Africans. We begin to get acquainted with each other. They would be 600 to 700 a Igoumenitsa, jungles and squats together.
Published by exilesingreece