22 mars 2011
2
22
/

03
/

mars
/

2011
19:05
Some exiles have money and buy their food in the shops in town. The others are scavenging for food. It is something visible daily in the streets of Igoumenitsa.
We are still discovering the many different places where they take shelter near the port, under a bridge, in the basement of a building under construction. Relations are quite fluid between the communities, and North Africans and Sudanese living together.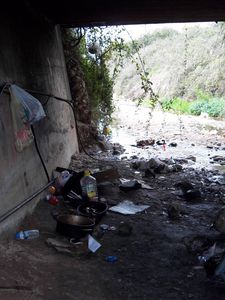 We return to the "Jungle of Slopes", where Moroccans invite us to eat. One of them has spent several years in Italy and France before being expelled.
The discussions are fairly fluid with people, and we begin to be identified as people who will tell "in Europe" what is happening here. We relativize our role, but our approach is generally greeted with sympathy. For exiles, Greece is not Europe. Europe is after, when they have managed to leave Greece, and they will be where their rights are respected. We relativize things, and then talking about the rights, including the right of asylum, the role of associations.
Some exiles have the specific purpose of going to Britain, some are moving towards a particular country, because they have family or friends, sometimes because they have a favourable idea, or want to return in the country where they spent several years and started making their lives before being deported. But many have no purpose and just want to get "in Europe", where their rights are respected and where they will have a better life.
Late afternoon, the situation suddenly becomes taut. The riot police brutally evacuate the portion of highway that leads to the port. Exiles responded with stone-throwing. The police pursued them onto the hillside.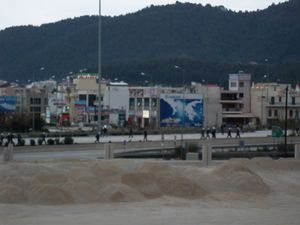 I springs around midnight to see how the situation is. There is not an exile visible in town. Police cars patrol the entire waterfront, the harbor front, and small streets where buildings under constructionare squatted by the exiles. A police car parked under the bridge of the highway: the "Jungle Slopes" is cut from the city.
The situation was already tense last night: the far-right activists assaulted an Algerian, other exiles came to help him and smashed car windows.
Published by exilesingreece