29 septembre 2011
4
29
/

09
/

septembre
/

2011
12:38
Bulgaria and Romania are in a very similar situation in the European Union. Members, but not full, as their population has limited access to the labor market in other EU countries, both countries also expect to be accepted into the Schengen area. They therefore have a buffer between it and the one hand the former Soviet Union, on the other hand Turkey, and are given the role of border guard an area in which they are not allowed.
It is a policy based (a condition for entry into the Schengen area) and funded by the European Union which is implemented in both countries. They assume the strengthening of controls at external borders of the Union, their border police are actively involved in Frontex missions, they build detention centers for illegal migrants, and reception centers for asylum seekers (without ever having set up reliable procedures for processing asylum applications or integration policy for refugees).
In this common framework, each country has its own procedures for implementing these policies.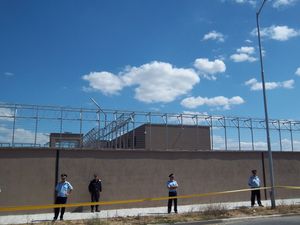 Bulgaria :
There is a labor migration, which is reflected in particular by opening small businesses (including these immigrants come from China and the Middle East). Bulgaria is also home to international students.
A small proportion of the exiles entering the EU from Turkey through Bulgaria do, but this proportion tends to increase because of the difficulties encountered in Greece and the intensification of controls between Greece and the Italy. The entry of Bulgaria and Romania into the Schengen area should amplify this phenomenon.
In response, the former militarized border guards were assigned to monitor the external border of the European Union, and the first detention center was opened near Sofia for foreigners awaiting deportation. The material conditions and access rights are severely degraded and were denounced by human rights organizations of human rights. A second newly built Ljubimec so close to the border with Turkey and Greece. The physical conditions are consistent with Western standards, access to rights in this small town away from any major city.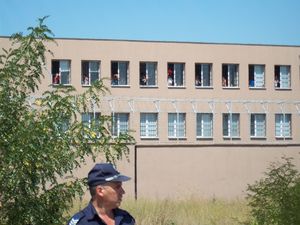 The retention centre in Ljubimec
Access to information on the rights of translators and the rest is a recurring problem for foreigners in Bulgaria, regardless of their immigration status.
Asylum seekers are supposed to be housed in shelters. They can come out during the day, and receive an allowance of bedding and 60 leva per month (30 €). They are neither fed nor clothed, and that amount is insufficient to live. Asylum seekers who have no money also must find ways to survive, knowing that they are not allowed to work here.
A visitor center is in a distant suburb of Sofia. A second would open in September in Pastrogor, near the Turkish border. It is built outside the village, and surrounded by a high wall topped with barbed wire. While it is possible to find odd jobs to black in Sofia, as it is questionable how asylum seekers will remain in this village with € 30 per month.
The reception centre in Sofia
Contrary to the law, some asylum seekers are locked up in detention centers, even if there are vacancies in nursing homes. Similarly, some asylum seekers are refused in reception centers and remain on the streets. Some squat empty buildings near the center of Sofia.
The processing of asylum applications seems erratic and unprofessional. An example of an Iraqi asylum seeker who worked for a Western oil company and whose house was destroyed by a bomb, which was dismissed on the grounds that the destruction of his house by an attack did not prove that He has been personally threatened, appears not an isolated case.
For those getting refugee status, the Red Cross runs an induction program that is fairly minimalist.
The few associations mobilized on the issue provide a minimum of legal and material support, and organize courses Bulgarian language.
Published by exilesingreece