22 mars 2011
2
22
/

03
/

mars
/

2011
13:22
Day shared between the districts where the exiles are gathered and the football field.
You can see in these districts a large number of travel agencies for Albania, Romania, Bulgaria, or less often Bulgaria, Serbia, Poland, traces of an earlier immigration, the years 90. We hear also speak Romanian in the street. Newcomers have arisen in neighborhoods where immigrants were already numerous, although their geographic origins have no great thing in common.
Some shops run by Asians, Arabs or Pakistanis, signs of a dynamic installation and integration.
Just outside, Attica and Hagios Panteleimon squares are exclusively white, the exiles were driven by the daily onslaught of fascist groups, and every exile who dare to cross one of two places faces a beating . Some vendors are not yet settled deep into the adjacent streets, but do not venture on the squares.
Exiles sublet rooms in apartments, often several people, and pay 200 to 300 € per month. The wait is often long before finding an opportunity to leave Greece and remain in Athens expensive.
Families are in a particularly difficult situation. The move is risky with children both in the ports of Igoumenitsa and Patras and by the Balkans, and they often rely on smugglers to obtain false passports and try to reach other European countries by plane. The purchase of fake passports is expensive and often unsuccessful attempts to deal with checks at the airport.
Around 4 pm, Champ de Mars Park is full of people, by the sunny Sunday afternoon. Mixed, Greeks and exiles, families have come, people play football or cricket.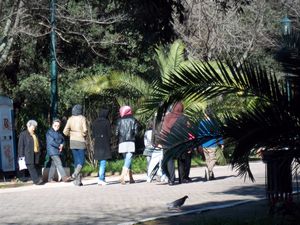 Published by exilesingreece